Because of its inherent flexibility, the Design-Build or engineer, procure and construct (EPC) lends itself well to a variety of project types. By combining design and construction experience onto one team, the owner realizes the benefits of "one stop shopping" at its best.Here are some key advantages to using our design-build method of construction over the traditional design-bid-build method.
Single Source of Accountability
The design build approach provides a single source for your entire project. In the classic design-bid-build method the owner must: select an architect/designer, finalize the design, bid the project, select a contractor, and then act as an intermediary. The design-build method fosters teamwork and lends itself to cooperation. The relationship built during the design phase helps to ensure that the stage is set for a successful construction project.
Budget Management
Discussing budget during the design phase helps to keep the projects within a realistic budget. Communicating the cost implications of design decisions ensures that the owner plays a key role in arriving at the final project price. Once the scope of work has been finalized, the project costs are clearly defined and controlled by the design-build firm.
Better Design and Less Risk to Owner
Specific design and construction details are being developed throughout the entire process and the focus stays on owner "value". The added benefits of working with a construction expert and design professional at the same time include a more innovative design and reduced risk to owner as  potential problems are discovered before the project starts.
Faster Project Completion
Design build projects can be completed in a shorter amount of time because: bid time is reduced, scheduling for the project can begin before design is finalized, potential construction problems are uncovered early and enhanced communication keeps everything moving.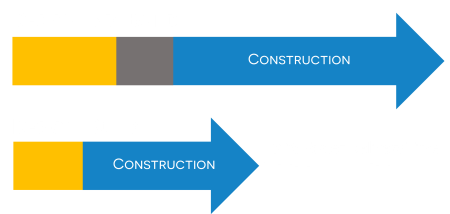 Quality Control
The design build method helps to remove ambiguity that may arise in material and construction specifications. Since the designer, engineer and builder are on the same team, the focus remains on protecting the clients' interest.